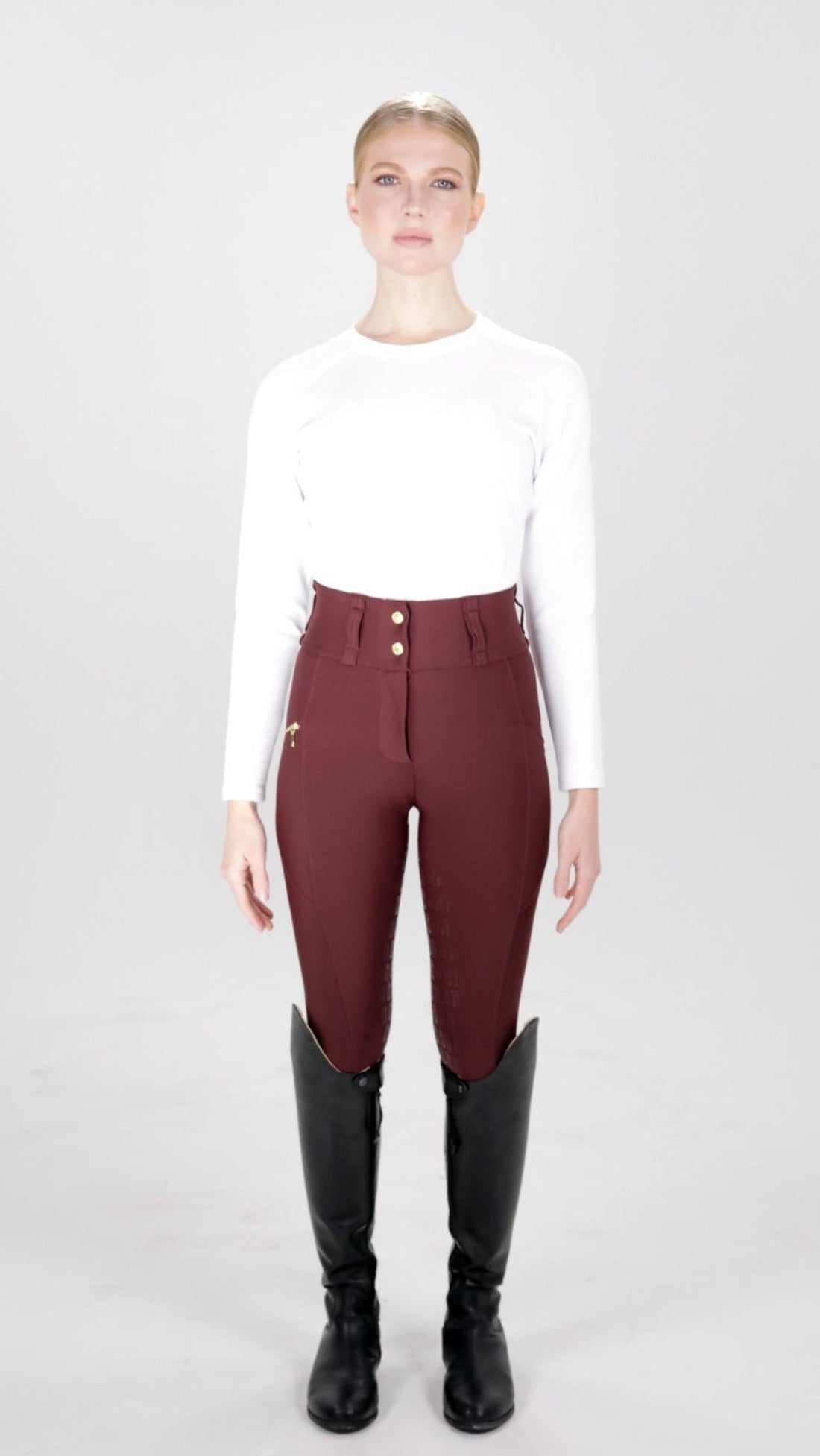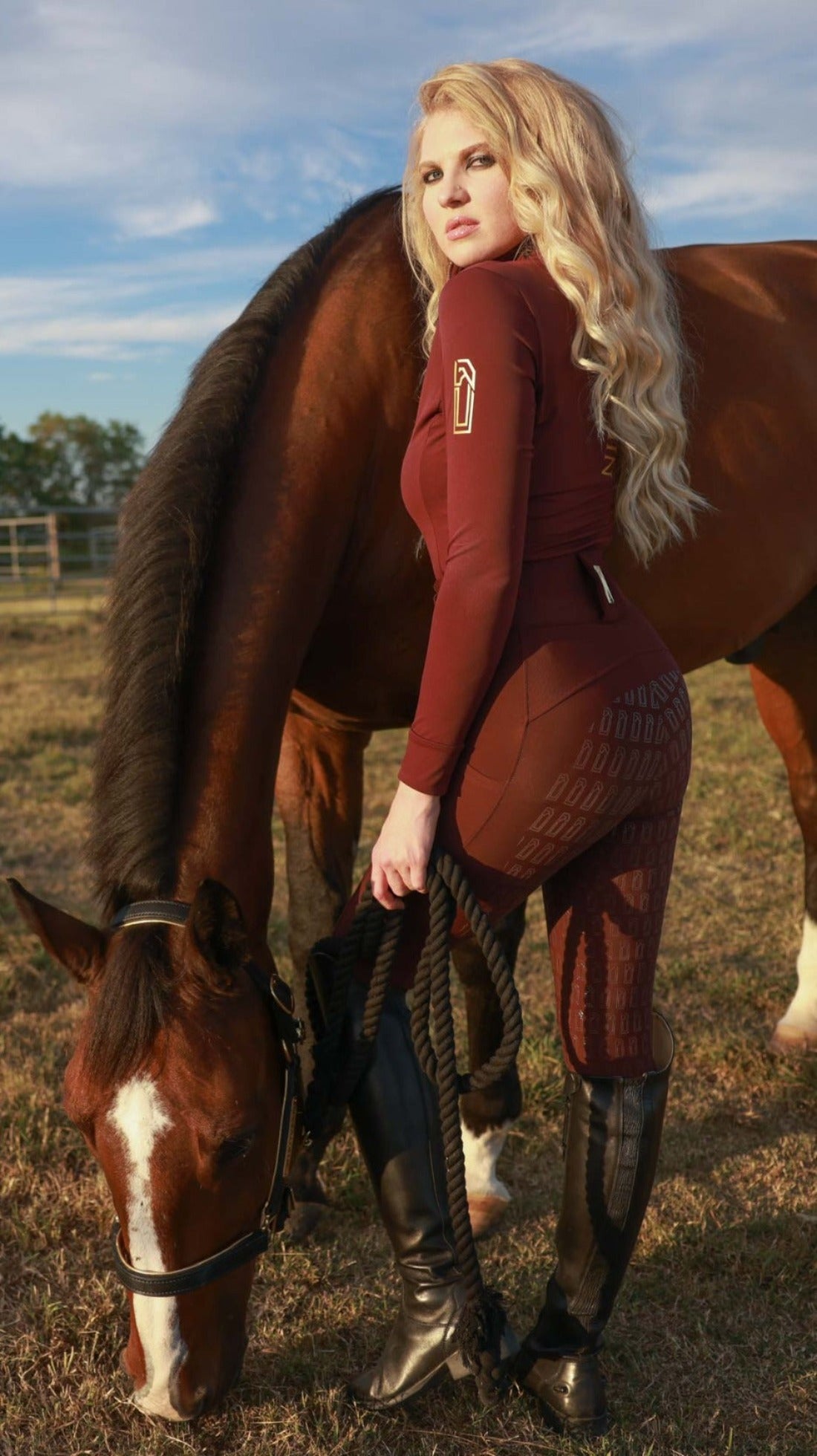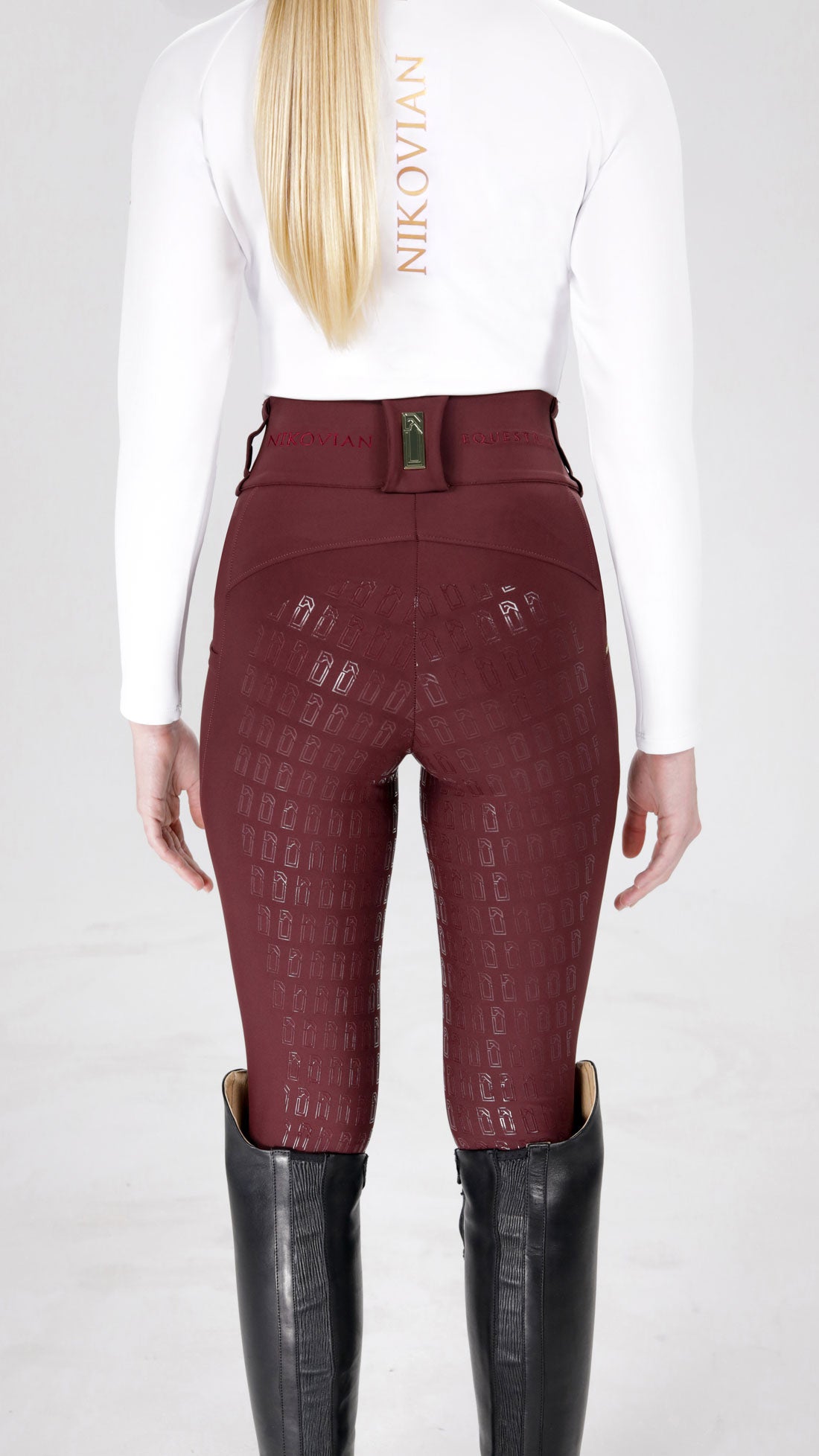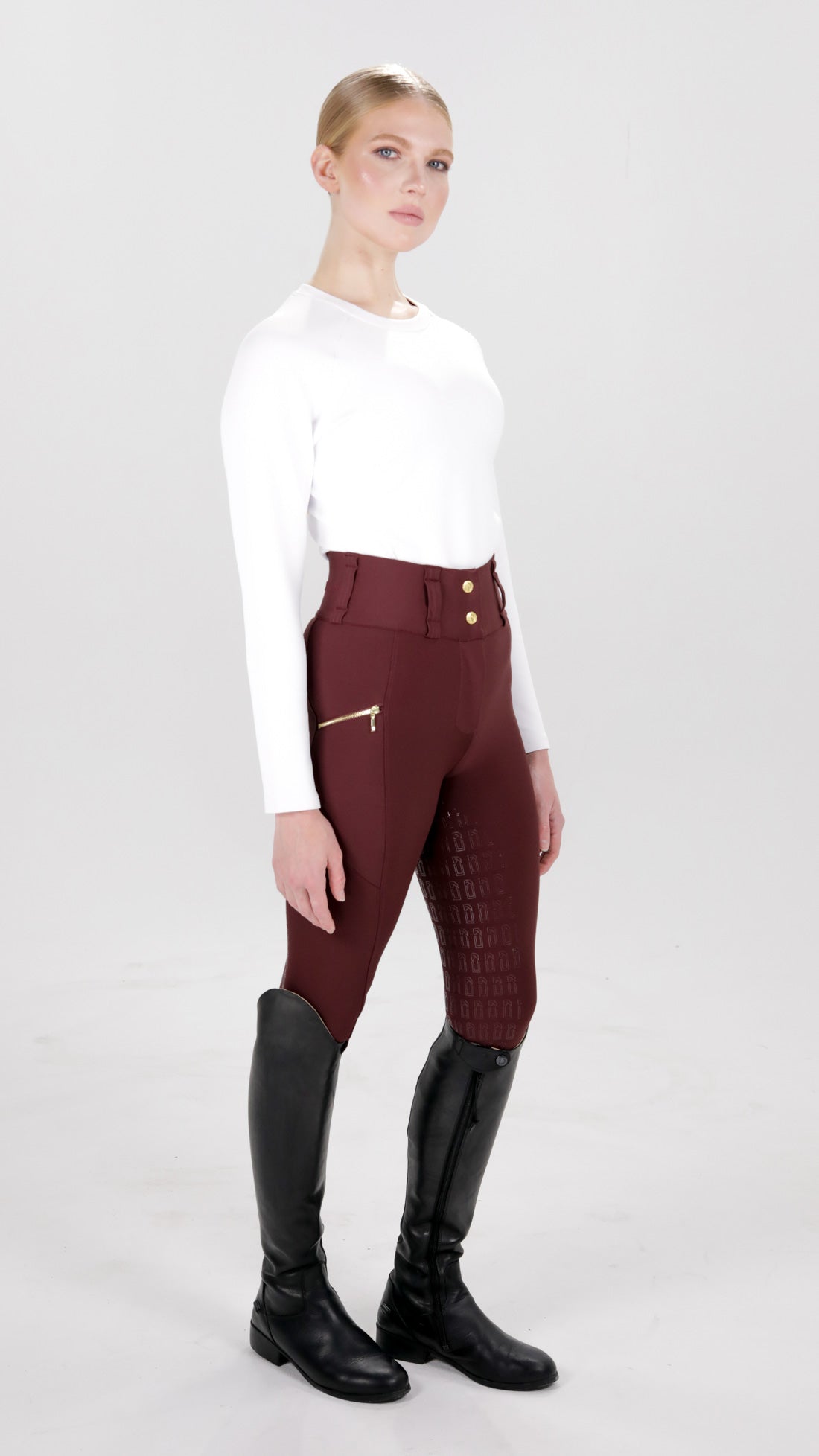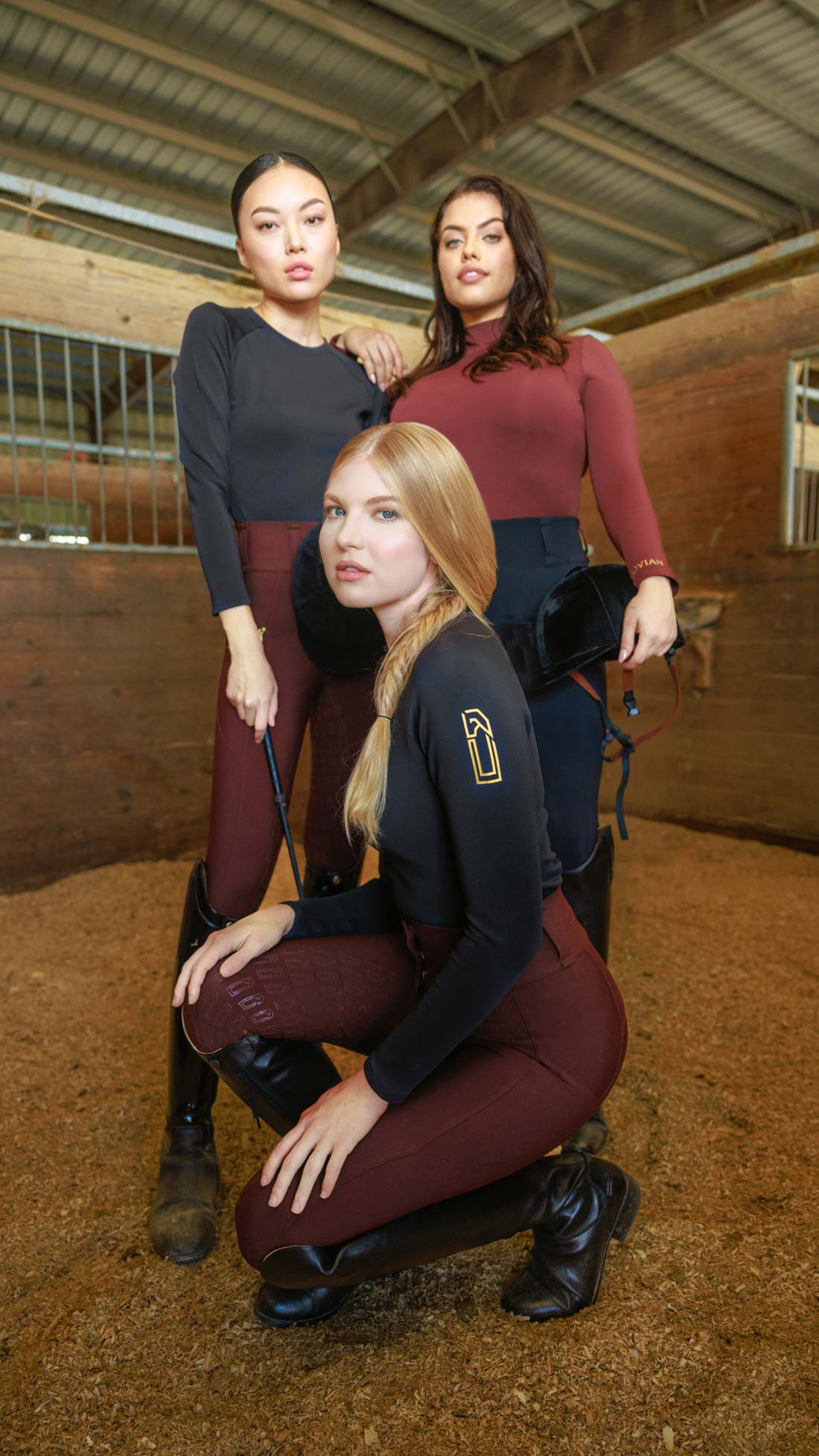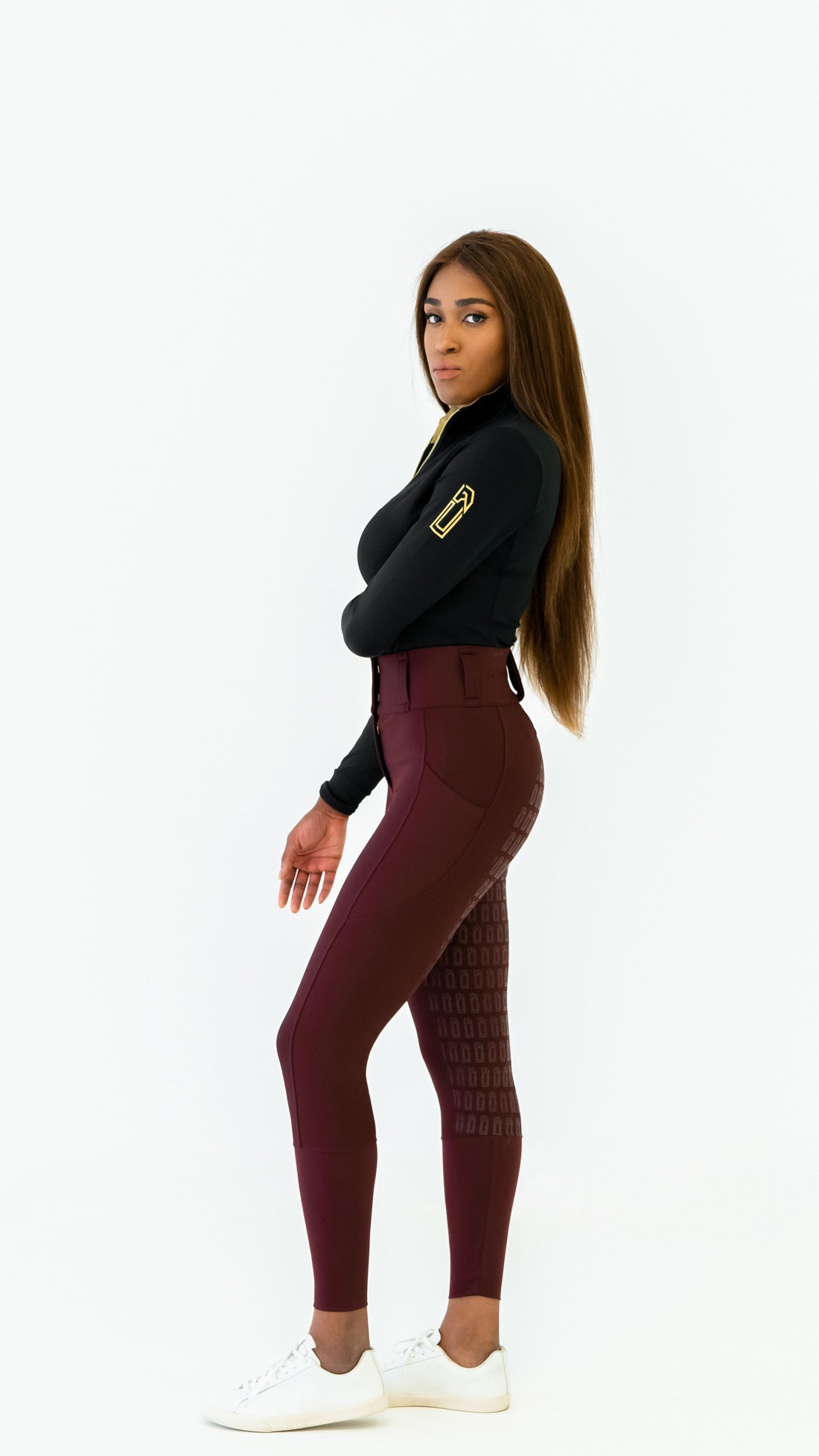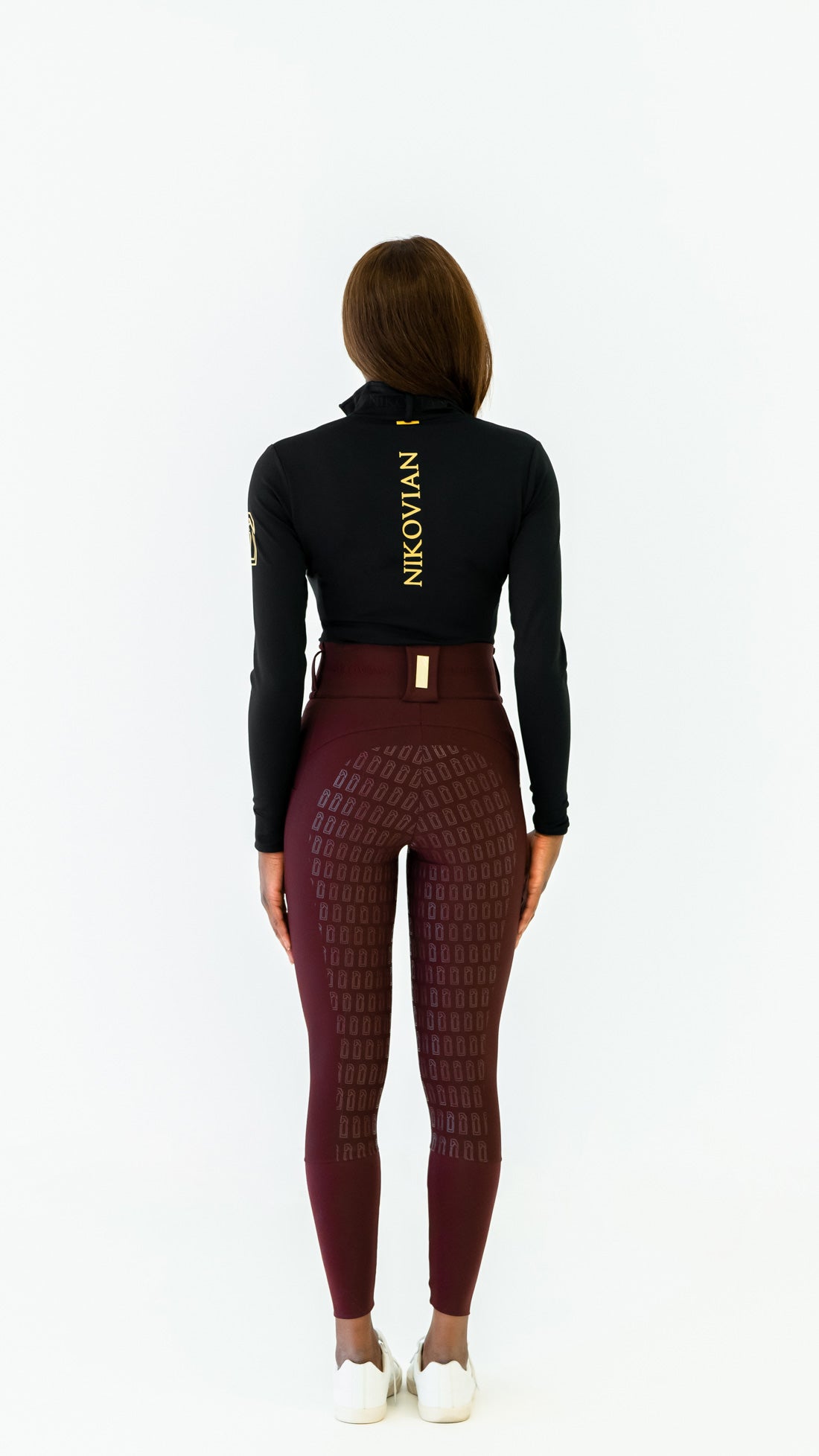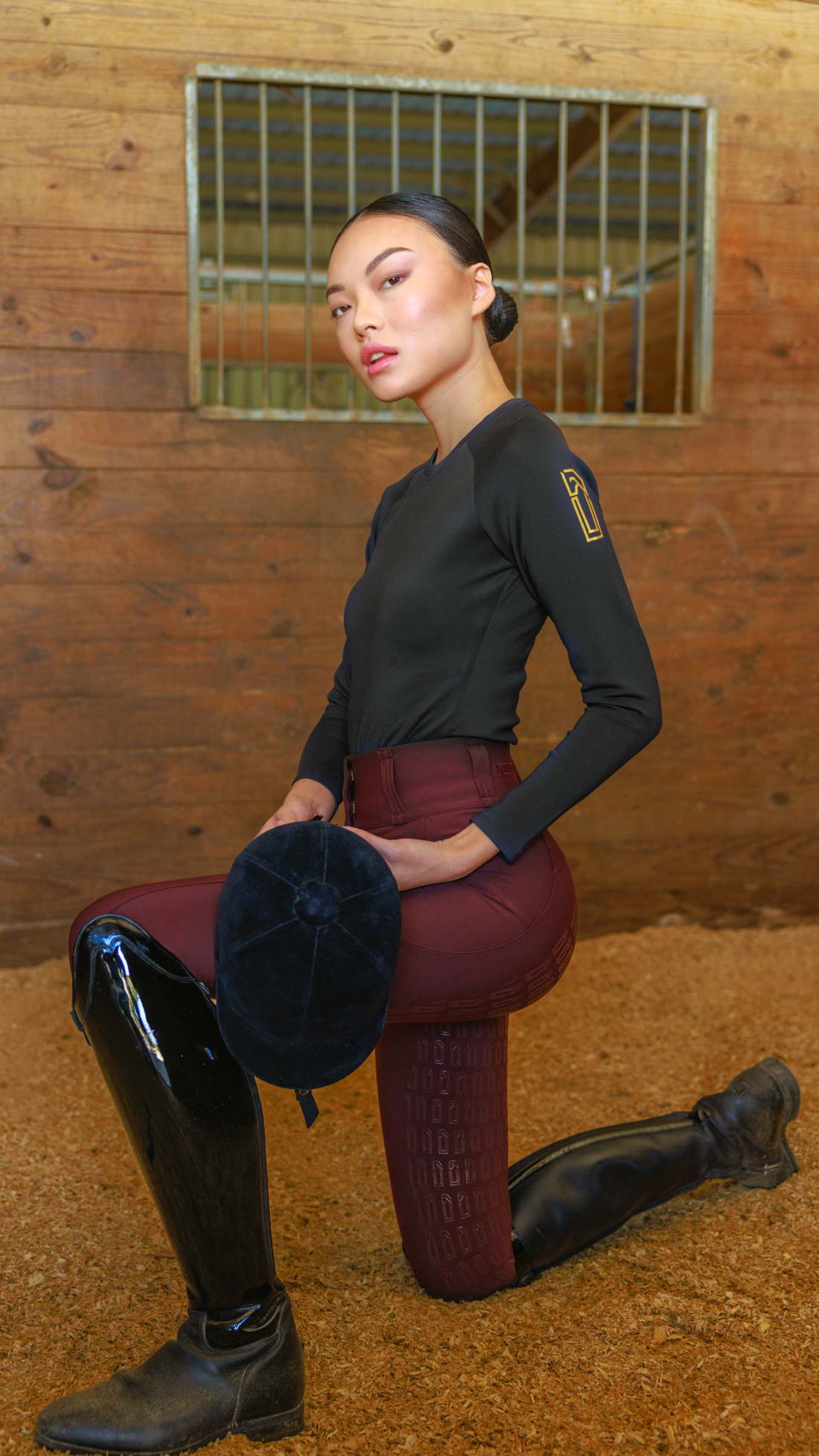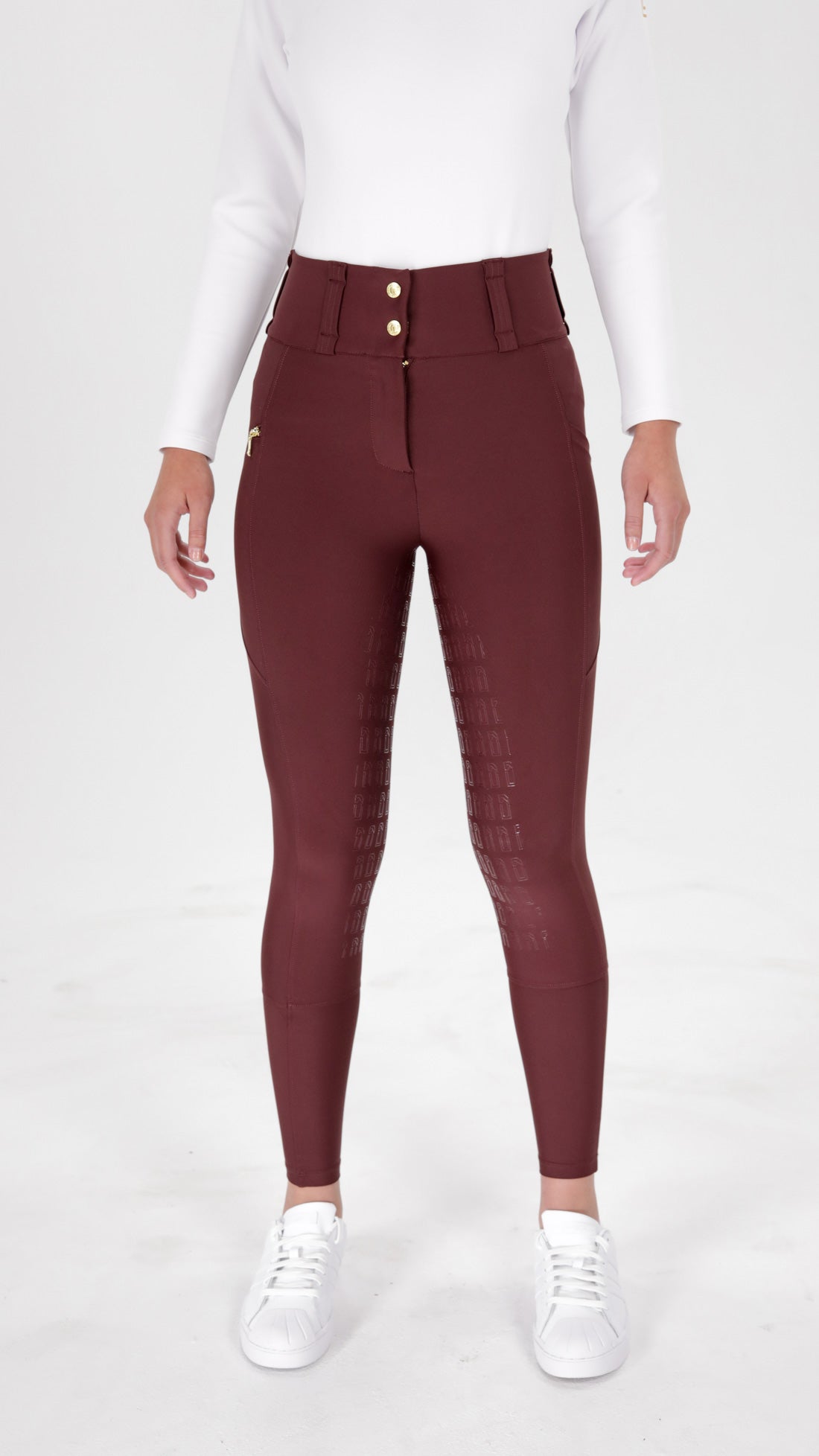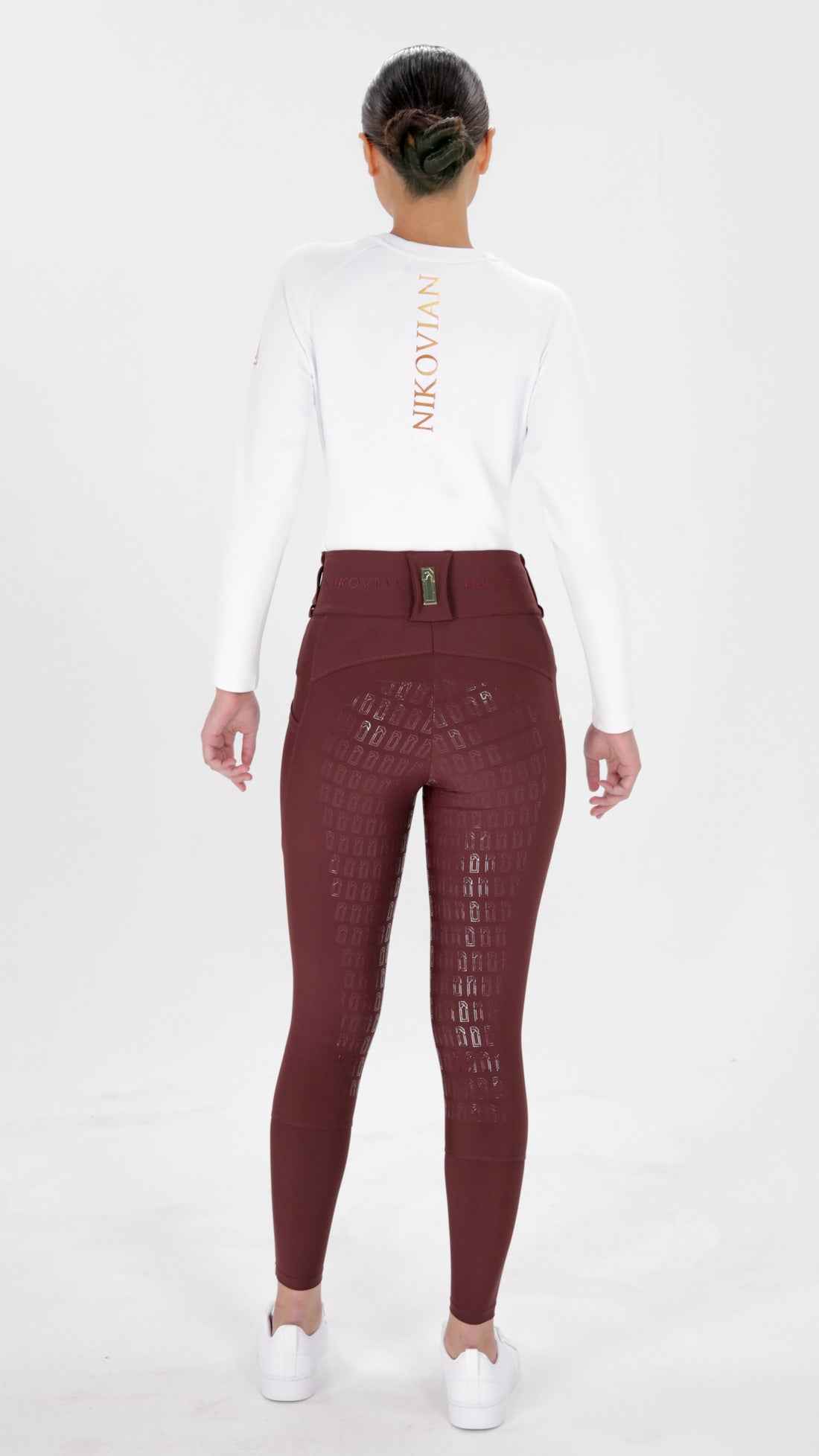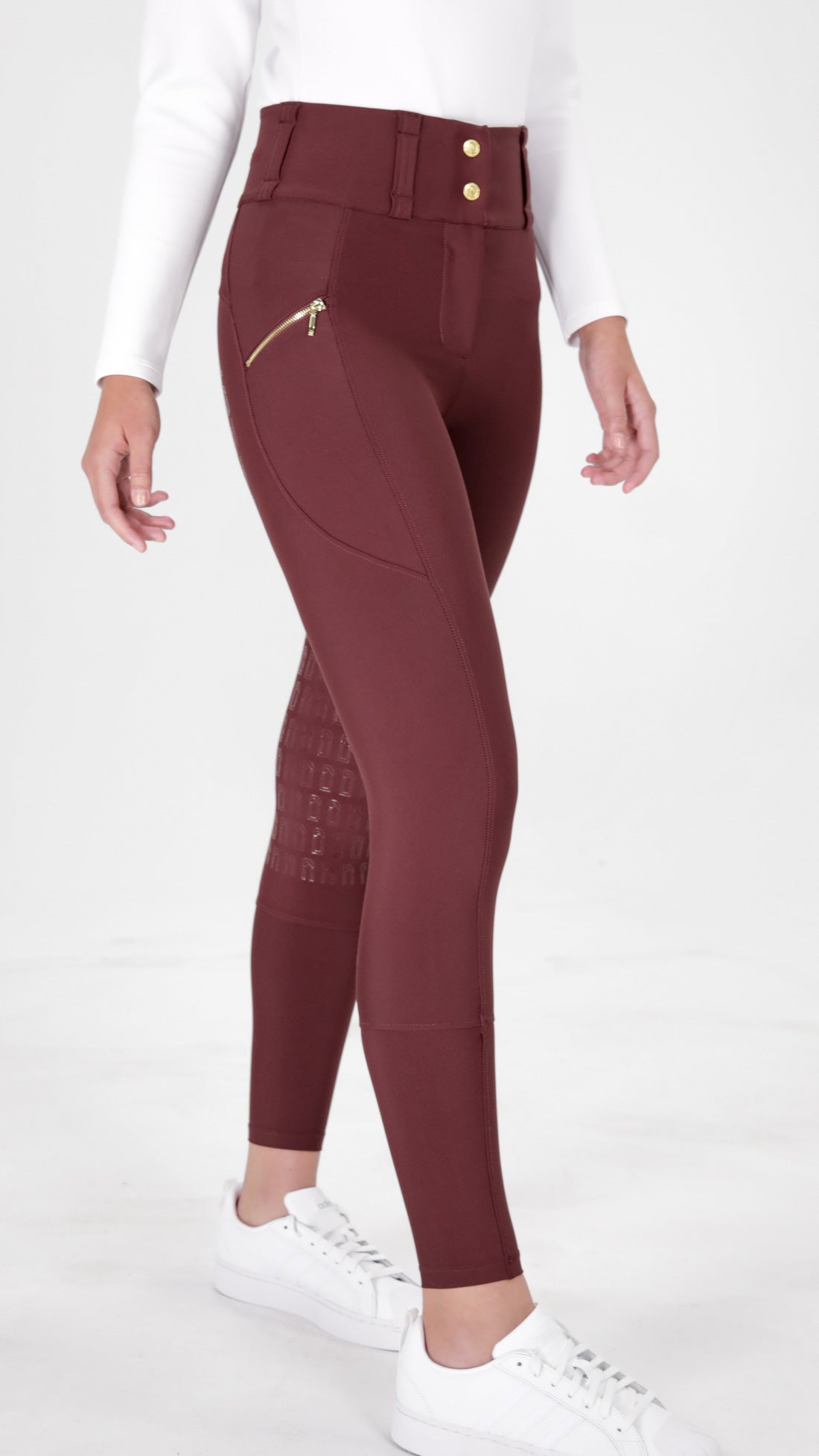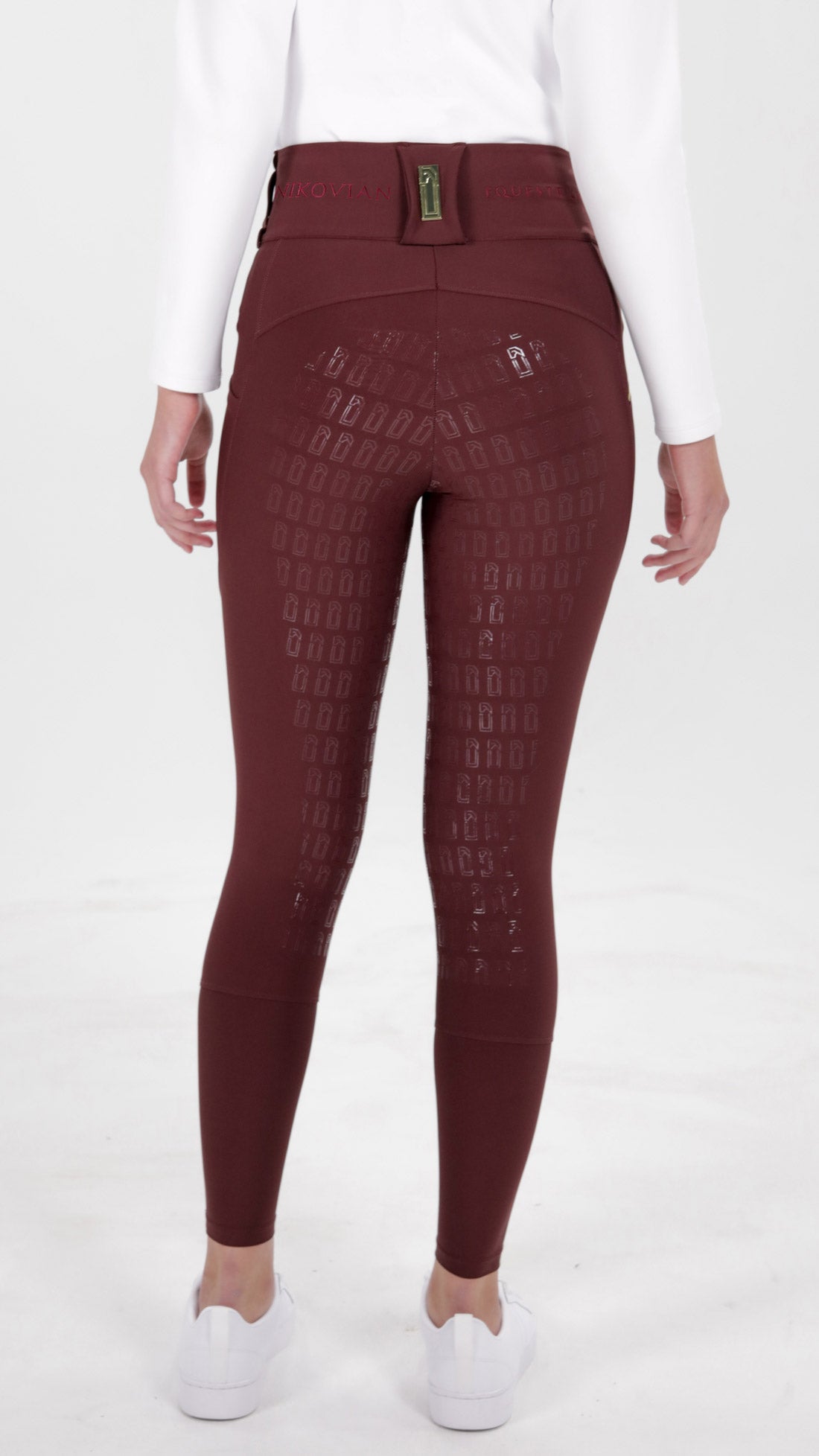 Maroon Legging Breech
Free US Shipping over $250
When temperatures rise our Legging Breech will keep you cool in the saddle. Lighter than our Standard Breech, the legging-like material is soft and comfortable. The full-seat silicone grip will hold you tight in the saddle while the fabric sculpts to your body. Compression technology on the legs increases blood flow without adding thickness to your boots, with reinforced pockets designed to be functional so you can ride confidently with your phone and other valuables. A seamless compression sleeve on the calves helps eliminate marks and discomfort when taking your boots off after a long day of riding. We added grip in the waistband to help keep your shirt tucked in place, while our signature polished metal plate is located on the back.
We've cut down on our use of swing tags, so this product comes without one

78% Polyester, 22% Spandex

Model is 5'9 and is wearing a size S
Saddle sores
Hi bought these based on the endorsement by Equestrian Masterclass. I have two affordable legging breeches (from Ariat and Karrots) which I love but decided I wanted to try a full seat legging breech. For some reason Nikovian decided to but a seam right around the calf. I have high quality Italian half chaps which are very snug. The first time I rode in them they gave me a slight rub. I thought it might be a quirk so I tried again and got another rub on my calf. I tried to return them but they refused. Now I have a pair of very expensive useless breeches hanging in my closet. I also didn't love the pull of the full seat so much as the leggings slipped a bit while the silicone stuck. Also I'm a slender 47 year old woman and although the was snug fit, the zipper would always slightly open near the top, but they fit through the hips and legs, so if I had gone up a size they would have been baggy. If you have any bit of a lower belly when riding and don't look like the models modeling these marron leggings I wouldn't recommend them. My Ariats have a much more comfortable fit. I regret buying them.
Hello, we are so sorry to hear the breeches weren't a great fit for you as we always strive for customer satisfaction! Due to our policy on returns the clothes can't be ridden in or used and also must be in the allotted time period of 30 days as stated in our policy, which was why the return was not able to be processed for you. We always appreciate customer feedback on how we can make our products better and will forward your notes to our design team so that we can make any improvements!
Best breech legging hybrid, hands down.
Obsessed. These are the most comfortable riding pants ever. They are some where between a breech and a legging, structure and form of a beech but comfort of a legging. It's a thicker material than other riding leggings and quite flattering. The grip is very grippy and holds up great after several washes. I immediately got a second pair in black after riding in these once.
Best riding pants ever!
I love these pants so much! I am a dressage rider with two sensitive Trakhners. These pants allow me to be very mobile and are not restrictive (even with two layers of thermals under them).
All of my usual complaints are taken care of! No crotch wedgie, total mobility, thick comfy waistband, easily adapted to my body shape (which is usually a problem).
The quality is superb and they look amazing. I am looking forward to white ones coming out!
Riding on clouds!
Imagine wearing a breech that doesn't dig anywhere, stays up on your waist, keeps your shirt tucked in and makes you not think about any of these things while riding... That's what it feels like to wear this legging breech. So comfortable! I have the standard one too which is definitely more structured, and I'd decribe it as a tight hug, lol, because it also feels awesome. I highly recommend it if you're skeptical of a new brand. I'm glad I took a shot and I'm anxiously waiting for more items from them!
YOUTUBER SCARLET MARTIN
Nikovian Apparel Review